James W. Clarkes mening om Christer Andersson
Professor James W. Clarkes har følgende opfattelse om Olof Palmes gerningsmand:
"Kære Mr. Smith,
Jag har netop genlæst min rapport, som lige er postet [= til Danmark], for første gang siden den blev skrevet i 1998. Du og jeg er enige om, at gerningsmanden bestemt var en selvmordstruet Type II subjekt med visse Type III karakteristika. Det synes for mig, som om Christer Andersson næsten helt sikkert er morderen.
De bedste hilsner, James W. Clarke"
I relation til Palmemordet – og professor James Clarkes viden om 21 mord og mordforsøg på USA's præsidenter og præsidentkandidater – anbefales TV interviewet med Clarke på forsiden af hans hjemmeside: http://www.jameswclarke.net
Rapporten som omtales i professor Clarkes e-mail er følgende: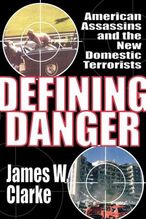 James W. Clarke: The Probable Assassin: A Confidential Report. Prepared for The Commission on the Criminal Investigation into the Assassination of Prime Minister Olof Palme, Stockholm, Sweden, 1998.
I Clarkes rapport mener han bl.a., at gerningsmanden var selvmordstruet og måske allerede havde begået selvmord.
Christer Andersson skød sig i 2008.
Du kan få mere generelle oplysninger om Clarke her:
 http://www.youtube.com/watch?v=1zeL9Dxl-r8
Her er Clarkes e-mail til Paul Smith i originaltekst:
"Dear Mr. Smith,
I just re-read my report, just mailed, the first time since it was written in 1998.  You and I agree, the assassin was an ultimately a suicidal Type II subject with some Type III characteristics.  It does seem to me that Christer Andersson was almost certainly the assassin.
Sincerely, James W. Clarke"